Kasich Stands Out On Same-Sex Marriage Issue During Debate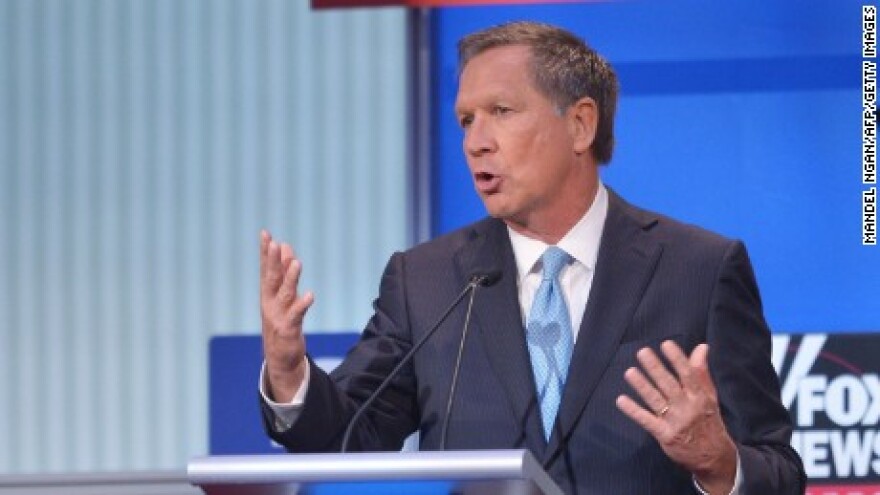 A last minute surge in the polls put Governor John Kasich on the primetime stage for the nation's first Republican presidential debate of the 2016 campaign season last night in Cleveland. Ohio Public Radio's Andy Chow reports.
The Republican presidential primary debate was clearly the Donald Trump show from the very beginning.

"I think the big problem this country has is being politically correct," said Trump.

Trump said America is led by what he called "stupid leaders" and didn't rule out a possible run at the White House as an independent if he didn't get the Republican nomination – to name just a few notable moments.

Which means it was up to the other nine candidates—including Gov. John Kasich on his home turf—to find other ways of standing out.

Kasich was the last candidate announced at the beginning of the debate, but welcomed by a huge ovation inside Quicken Loans Arena.

His big moment was when he was asked about his stance on same-sex marriage. Kasich has said in the past that he – personally – believes that marriage should be between a man and a woman, however, he also respects the U.S. Supreme Court decision legalizing it. But he added that doesn't mean he can't accept people who think differently.

"Issues like that are planted to divide us. I think the simple matter of the fact is and this is where I would agree with Jeb, and I've been saying it all along, we need to give everybody a chance, treat everyone with respect and let them share in this great American dream that we have," Kasich said.

Kasich was specifically asked by one of the moderators during the Fox News debate how his personal beliefs would affect his relationship with his twin daughters if they happened to be gay.

"Look I'm gonna love my daughters – I'm gonna love them no matter what they do. Because you know what? God gives me unconditional love, I'm gonna give it to my family and my friends and the people around me," said Kasich.

Kasich just barely made it to the big show, edging out other prominent candidates such as former Texas Gov. Rick Perry and former Pennsylvania Sen. Rick Santorum.

The fact that he made it to the prime time show meant Kasich had a chance to push his message of economic growth – which came when he was asked how he would take on former U.S. Secretary of State Hillary Clinton if she were to win the Democratic Party nomination.

"I think she will come in a narrow way – the nominee of this Party if they're going to win is going to come at it in a big way which is pro-growth which is balancing budgets," said Kasich.

David Cohen, a Fellow at the Bliss Institute of Applied Politics, said it was a good night for Kasich, who Cohen said positioned himself as someone who could appeal to a wide-range of voters.

"I think Kasich was really one of the candidates that seemed like the adult in the room and somebody that I think again beyond the Republican primary electorate someone that would play very well in the general electorate," Cohen said.

An example of that is what Cohen described as Kasich's "artful" approach to an opportunity to criticize Trump when he accused the Mexican government of shipping criminals to America. Rather than slamming Trump, Kasich recognized his appeal.

"Donald Trump's hitting a nerve in this country – he is – he's hitting a nerve. People are frustrated, they're fed up, they don't think the government's working for them, and for people that just want to tune him out – they're making a mistake," said Kasich.

This was a stark contrast to the other candidates, who more harshly criticized Trump's tactics.

Kasich used most of his time on stage to push his experience, from his time as chair of the U.S. House finance committee the last time the federal budget was balanced to—of course—putting about than $2 billion in Ohio's rainy day fund.

Kasich now goes back to the campaign trail. He's been spending most of his time in New Hampshire – where he's showing up among the top four candidates in some polls.