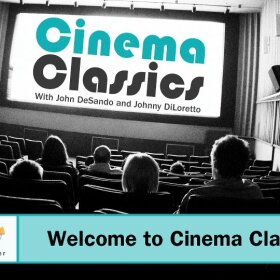 Two big Columbus media personalities -- John DeSando and Johnny DiLoretto -- put their love of great movies on the line every week on Cinema Classics, a dynamic conversation about the classics of the past and the contemporary movies and performers that might be classics in the future. Then, of course, these guys could always engage in the odd, unclassifiable discussion...you just never know with these two.
A remake that may become a classic Disney itself.

A classic Western that's both a spoof and a serious tale.

Guardians Vol 3 is a formulaic super-hero film with the added delight of eccentric characters that are developed more than usual.

Ray Romano acts and directs in a realistic dramedy about an Italian-American family in Queens.

The Dracula legend modernized by Nicolas Cage as the infamous biter.

We revisit our first view of The Whale last year before it won the Oscar.

This outstanding docudrama depicts Nike's recruiting Michael Jordan in 1984.

Keanu Reeves and his crew are better than ever with mayhem like ballet.

Almost a classic, this horror fest has the necessary tropes for the genre.

Connecting current Oscars with the past and assessing the ceremony.