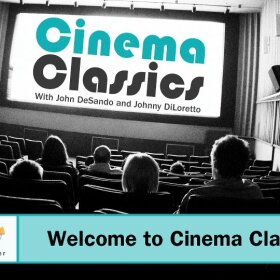 Two big Columbus media personalities -- John DeSando and Johnny DiLoretto -- put their love of great movies on the line every week on Cinema Classics, a dynamic conversation about the classics of the past and the contemporary movies and performers that might be classics in the future. Then, of course, these guys could always engage in the odd, unclassifiable discussion...you just never know with these two.
A review of the highs and lows of last summer's movies.

A classic drama about a gifted clothier starring Daniel Day-Lewis.

From Mad Max to Babe George Miller is an auteur of the first order.

A celebration of 700 shows and comments about classic films and Film Columbus with film commissioner John Daugherty, in for Johnny DiLoretto.

A brilliant docudrama about the rescue of 12 young soccer players and their coach in Thailand 2018.

Aubrey Plaza carries this thriller, Emily the Criminal,showing she has megastar potential.

John and Jordan find Bullet Train to be light, superficial, and fun action for the summer. And Brad Pitt.

John and Kevin review the work of Get Out and Nope's Jordan Peele.

Set in 1957, Mrs Harris Goes to Paris is a timely dramedy of hope and fulfillment.

John and Jordan discuss the work of one of the major director/writer stars of contemporary cinema, Takia Waititi of Jojo Rabbit, Hunt for the Wilderpeople, and Thor Ragnorok and Thor Love and Thunder.